Kamal Ghali is a former U.S. Department of Justice white-collar and cybercrime prosecutor, a former deputy chief at the U.S. Attorney's Office in Atlanta, and he leads Bondurant's White-Collar Criminal Defense and Cyber & Digital Litigation practices. He represents clients in government investigations and enforcement actions; federal criminal prosecutions; and complex civil litigation involving allegations of fraud, racketeering (RICO), and other misconduct. He is a leading authority on white-collar matters involving cybercrime and data theft. He has been quoted by major media publications—including Reuters, the Associated Press, Bloomberg, the Atlanta Journal Constitution, and others—on white-collar issues involving public corruption investigations, complex fraud litigation, the federal RICO statute, and international cybercrime. He is a battle-tested courtroom advocate and trial lawyer, with substantial first-chair experience in high-stakes federal jury trials. His trial experience ranges from first-chairing a complex multi-defendant, multi-week corruption trial in Atlanta to representing a major airline carrier in an arbitration involving claims worth hundreds of millions of dollars.
RICO and Complex Business Fraud Litigation:
He has successfully represented clients in contentious fights over business ownership interests, partnership distributions, investment returns, and other complex fraud. He has particular experience litigating civil cases alleging criminal misconduct including violations of state and federal RICO (Racketeer Influenced and Corrupt Organizations Act) statutes. As a federal prosecutor, he regularly coordinated with the SEC on a number of matters involving securities fraud, insider trading, market manipulation, cybercrime, cryptocurrency fraud, and investor fraud, including on a three-week jury trial of two executives charged with perpetrating a "pump and dump" scheme with a publicly traded healthcare company. The trial was the first securities fraud trial in the Northern District of Georgia involving a Title III wiretap. He draws on his background as a former organized crime and white-collar crime prosecutor to effectively represent clients victimized by criminal conduct or facing parallel civil and criminal litigation.
U.S. Department of Justice Investigations:
He has successfully represented clients facing criminal investigations by obtaining non-public resolutions without the filing of any criminal charges. His experience includes representing companies and corporate executives in criminal and civil investigations involving the U.S. DOJ and other agencies including the FBI, IRS Criminal Investigations, DOL, SBA, Homeland Security Investigations, HHS-OIG, ICE, EPA, U.S. Fish & Wildlife Service, Secret Service, multiple U.S. Attorneys' Offices, DOJ Tax, the Georgia Attorney General, and other state attorneys general and administrative agencies. These investigations have involved allegations of bribery and kickbacks, healthcare fraud, medical billing fraud, tax crimes, securities fraud, mail and wire fraud, cryptocurrency fraud, consumer deception, Paycheck Protection Program fraud, cybercrime, and money laundering. His clients have ranged from private equity firms, healthcare companies, and retailers to corporate executives and individuals.
Cyber and Intellectual Property Litigation:
He has advised companies on fast-breaking data security events, compliance with reporting statutes and regulatory requirements, cyber-insurance coverage issues, law enforcement referrals, and sensitive data thefts involving proprietary information and other intellectual property. As a former DOJ cybercrime prosecutor and Deputy Chief of the Cyber and Intellectual Property Crime Section, he has deep experience in cases involving over 100 data breaches, state-sponsored cyber intrusions, intellectual property thefts, and sensitive national security matters. He is the recipient of a DOJ Director's Award for superior performance in co-prosecuting the promoters and developers of SpyEye, a pernicious malware that inflicted nearly a billion dollars in losses around the world.
Cryptocurrency Litigation:
Kamal has litigated and investigated dozens of cutting-edge matters involving digital and cryptocurrencies, money laundering using digital assets, civil forfeiture of cryptocurrency wallets, investment fraud, and the sale of unregistered securities.
Before returning to Bondurant, he served as a federal prosecutor for over six years. He was a Deputy Chief of the Cyber and Intellectual Property Crime Section, served in the Economic Crimes Section, the Narcotics & Organized Crime Section, and worked closely with the Public Corruption Section on several high-profile matters involving fraud and the bribery of public officials. He was also the lead cyber-prosecutor at the U.S. Attorney's Office and led trainings on the use of cutting-edge electronic surveillance techniques. He won numerous awards and commendations for his work from the FBI Director, the Deputy Attorney General (DOJ Director's Award), and the U.S. Attorney in Atlanta.
He has been appointed by federal judges to serve on the Criminal Justice Act Panels of the U.S. District Courts for the Northern and Middle District of Georgia. He previously served as a judicial law clerk to Chief U.S. District Judge Thomas W. Thrash, Jr. (NDGA) and U.S. Circuit Judge Frank M. Hull (CA11).
Additional background on his work:
Recent Successes
Successfully represented the target of a U.S. Department of Justice criminal investigation involving cryptocurrency fraud by negotiating a civil resolution without the filing of any criminal charges;
Won a dismissal of civil RICO claims against several executives and manufacturers facing money laundering, wire fraud, and customs fraud allegations;
Successfully represented the target of an FBI and SEC securities fraud investigation by obtaining a resolution without the filing of any criminal charges;
Currently representing a university in a class action seeking tuition refunds based on a shift to remote learning due to the COVID-19 pandemic;
Currently representing several corporate executives and companies in a contentious business dispute involving fraud, breach of fiduciary duty, and RICO claims;
Won a dismissal of a complaint filed against one of the world's leading data analytics companies in California federal court alleging violations of the California Unfair Competition Law, the Gramm-Leach Billey Act, the California Insurance Information and Privacy Act, and other privacy regulations;
Won a temporary restraining order and injunction in federal court on behalf of a major data services company against a contractor that refused to return sensitive customer information;
Successfully represented a major media company in a ransomware attack that threatened to disrupt broadcasting and advised on the immediate data security incident and potential litigation;
Currently representing a corporate executive in a parallel civil and criminal U.S. DOJ False Claims Act investigation involving the pharmaceutical industry.
News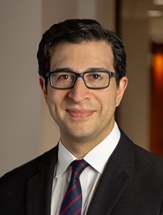 Atlanta
1201 West Peachtree Street NW
Suite 3900
Atlanta, GA 30309
Education
University of Michigan Law School, J.D., 2006, magna cum laude
Order of the Coif
Note Editor, Michigan Law Review
Emory University, B.A, 2001, magna cum laude
President, Alben W. Barkley Forum
Ranked Best College Debate Team of the Decade, 1999-2009
Previous Experience
Assistant United States Attorney, U.S. Attorney's Office for the Northern District of Georgia, Nov. 2012-Dec. 2018
Deputy Chief, Cyber and Intellectual Property Crime Section, U.S. Attorney's Office, Jan. 2018 - Dec. 2018
Law Clerk, Judge Frank M. Hull, U.S. Court of Appeals for the Eleventh Circuit, 2008-2009
Law Clerk, Judge Thomas W. Thrash, Jr., U. S. District Court for the Northern District of Georgia, 2006-2008
Admissions
State Bar of Georgia
U.S. Court of Appeals for the Eleventh Circuit
U.S. District Court for the Middle District of Georgia
U.S. District Court for the Northern District of Georgia
Supreme Court of Georgia
Georgia Court of Appeals