Kamal Ghali is a partner at Bondurant and a top-ranked trial lawyer recognized in "Best Lawyers in America" and "Chambers USA: America's Leading Lawyers for Business."
A former federal prosecutor, Mr. Ghali has handled some of the biggest civil and criminal cases in the country including billion-dollar commercial disputes, complex criminal fraud investigations and prosecutions, and contentious investor fights involving corporations and LLCs. He has deep experience in high-stakes business litigation, often involving racketeering (RICO) and fraud allegations; government investigations and white-collar criminal cases; and a range of cybersecurity matters. Before returning to Bondurant, he served as a U.S. Department of Justice white-collar and cybercrime prosecutor for over six years, including as a deputy chief at the U.S. Attorney's Office in Atlanta. He previously served as a judicial law clerk to U.S. District Judge Thomas W. Thrash, Jr. (NDGA) and U.S. Circuit Judge Frank M. Hull (CA11), and he leads Bondurant's White-Collar Criminal Defense and Cyber & Digital Litigation Practices.
What Others Say:
Chambers USA describes him as an "excellent trial lawyer" and an "excellent courtroom advocate, sharp and quick on his feet."
Colleagues and clients further note his "fantastic ability to explain complex legal and technology-related topics," his ability to "combine[] prosecutorial experience with good commercial awareness," his "impressive white-collar criminal defense practice," and his "particular expertise in matters concerning cybercrime."
A federal district judge recently described his performance as "excellent" and noted that Mr. Ghali "hit a home run [for his client] in the bottom of the ninth."
He's received numerous commendations from the U.S. Department of Justice, including a Director's Award for "superior performance" in co-prosecuting the promoters and developers of SpyEye, a notorious malware that inflicted nearly a billion dollars in losses worldwide; a commendation from the FBI Director for outstanding efforts in co-prosecuting a three-week securities fraud trial; and a U.S. Attorney Award for excellence in co-prosecuting a high-profile public corruption and tax matter involving an elected representative.
White-Collar Criminal Defense and Government Investigations

Mr. Ghali has successfully resolved numerous criminal investigations—including complex securities fraud, healthcare fraud, Anti-Kickback Statute, False Claims Act, bribery, public corruption, environmental crime, and cryptocurrency fraud investigations—without the filing of any criminal charges against his clients. He has represented clients in connection with interviews, grand jury subpoenas, and other requests involving numerous federal and state agencies including the Federal Bureau of Investigation, IRS Criminal Investigations, the Securities and Exchange Commission, Department of Health and Human Services, Department of Labor, the Environmental Protection Agency, U.S. Fish & Wildlife Service, Bureau of Industry and Security, Department of Defense, state attorneys general, and several components of the U.S. Department of Justice including the fraud section, the national security division, the consumer protection branch, and the environmental and natural resources division.
He has particular experience challenging email and social media search warrants in criminal cases and has trained federal agents and prosecutors on the lawful use of cutting-edge electronic surveillance techniques. He is one of the only attorneys in the United States to have won a motion to suppress the results of a social media search warrant and obtained a court order barring the Department of Justice from using the evidence at trial.
Complex Civil RICO and Business Fraud Matters
Mr. Ghali has extensive experience litigating fraud allegations, federal and state RICO claims, business ownership disputes involving minority shareholders (and LLC members), the appointments of receivers and auditors, and other contentious fights for corporate control. He has been quoted by major media publications—including Reuters, the Associated Press, Bloomberg, the Atlanta Journal Constitution, Law360, and others—on a variety of litigation topics including the False Claims Act, federal RICO claims, public corruption investigations, cybercrime, and complex business litigation.
Cyber, Digital, and Cryptocurrency Litigation
Mr. Ghali is an authority on cybercrime and data security matters and is frequently invited to lecture on legal issues involving cryptocurrency transactions. He has successfully represented clients facing cybersecurity events such as ransomware attacks and data breaches, digital thefts including cryptocurrency fraud, and civil litigation involving privacy claims. As the former lead cybercrime prosecutor at the U.S. Attorney's Office in Atlanta, Mr. Ghali has led cases involving over 100 data breaches, state-sponsored cyber intrusions, intellectual property thefts, cryptocurrency fraud and money laundering, ransomware attacks including the attack on the City of Atlanta, business email compromises, dark web markets, and successful prosecutions against international targets of cybercrime investigations including defendants from Russia, Ukraine, Estonia, Algeria, and others.
Mr. Ghali has particular experience representing tech companies, including digital advertising firms, data analytics companies, and online media platforms in cases alleging fraud, RICO claims, breach of contract, and antitrust violations. He has advised clients on disputes involving technology vendors, software applications, unauthorized digital access to corporate networks, and cryptocurrency fraud.
Corporate Asset Recovery and Crime Victim Representation
Mr. Ghali represents corporate clients, executives, and organizations victimized by criminal conduct including by fraud, theft, embezzlement, and cybercrime. He has deep experience with targeted referrals to law enforcement, including to the U.S. Department of Justice and the FBI, and he advises clients on ways to potentially recover stolen funds and assets via the restitution or forfeiture processes.
Additional background on his work:
"EXCELLENT TRIAL LAWYER"

News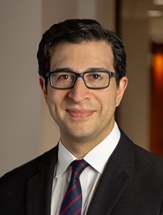 Atlanta
1201 West Peachtree Street NW
Suite 3900
Atlanta, GA 30309
Education
University of Michigan Law School, J.D., 2006, magna cum laude
Order of the Coif
Note Editor, Michigan Law Review
Emory University, B.A, 2001, magna cum laude
President, Alben W. Barkley Forum
Ranked Best College Debate Team of the Decade, 1999-2009
Previous Experience
Assistant United States Attorney, U.S. Attorney's Office for the Northern District of Georgia, Nov. 2012-Dec. 2018
Deputy Chief, Cyber and Intellectual Property Crime Section, U.S. Attorney's Office, Jan. 2018 - Dec. 2018
Law Clerk, Judge Frank M. Hull, U.S. Court of Appeals for the Eleventh Circuit, 2008-2009
Law Clerk, Judge Thomas W. Thrash, Jr., U. S. District Court for the Northern District of Georgia, 2006-2008
Admissions
State Bar of Georgia
Supreme Court of Georgia
Georgia Court of Appeals
U.S. Court of Appeals for the Eleventh Circuit
U.S. District Court for the Middle District of Georgia
U.S. District Court for the Northern District of Georgia