Kamal Ghali is an experienced trial lawyer, a former U.S. Department of Justice white-collar and cybercrime prosecutor, and a former deputy chief at the U.S. Attorney's Office in Atlanta. He leads Bondurant's White-Collar Criminal Defense and Cyber & Digital Litigation practices.
Additional background on his work:
He served as a federal prosecutor for over six years and earned numerous commendations for his work including from the FBI Director, the Deputy Attorney General, the U.S. Attorney in Atlanta, and the Recording Industry Association of America.
As an Assistant United States Attorney ("AUSA"), he co-prosecuted the largest criminal fraud trial in the history of the Northern District of Georgia, the first securities fraud trial in Atlanta involving a Title III wiretap, one of the largest parallel civil and criminal military contractor fraud cases, numerous public corruption matters, and some of the most sophisticated cyber threat actors in history, including malware developers that caused nearly a billion dollars in losses worldwide, the City of Atlanta ransomware attackers, prolific Russian hackers, and other cases involving over 100 data breaches.
He served as a judicial law clerk to the Hon. Thomas W. Thrash, Jr. (NDGA) and the Hon. Frank M. Hull (CA11).
Representative Work
He serves as lead counsel in an Anti-Terrorism Act suit against a middle eastern financial institution;
He serves as lead counsel in a series of civil federal RICO actions involving complex international bankruptcy issues;
He has represented companies, including Fortune 500 companies, in connection with grand jury subpoenas and ongoing criminal investigations;
He has advised and counseled media companies on fast-breaking legal crises threatening to stop production and disrupt broadcasting, including a ransomware attack on one of the most recognizable TV brands in the U.S.;
He represents a CEO and company in an FBI and U.S. Attorney's Office criminal investigation into alleged securities fraud violations;
He has successfully litigated civil RICO cases, Lanham Act claims, breach of contract cases, securities fraud, and other matters in federal courts across the U.S;
News
January 16, 2020

May 31, 2019

Law. com

May 13, 2019

April 3, 2019

March 19, 2019

Daily Report

February 20, 2019

January 7, 2019

April 18, 2011

Fulton County Daily Report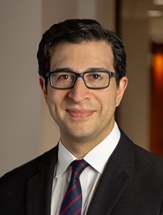 Atlanta
1201 West Peachtree Street NW
Suite 3900
Atlanta, GA 30309
Education
University of Michigan Law School, J.D., 2006, magna cum laude
Order of the Coif
Note Editor, Michigan Law Review
Emory University, B.A, 2001, magna cum laude
President, Alben W. Barkley Forum
Ranked Best College Debate Team of the Decade, 1999-2009
Previous Experience
Assistant United States Attorney, U.S. Attorney's Office for the Northern District of Georgia, Nov. 2012-Dec. 2018
Deputy Chief, Cyber and Intellectual Property Crime Section, U.S. Attorney's Office, Jan. 2018 - Dec. 2018
Law Clerk, Judge Frank M. Hull, U.S. Court of Appeals for the Eleventh Circuit, 2008-2009
Law Clerk, Judge Thomas W. Thrash, Jr., U. S. District Court for the Northern District of Georgia, 2006-2008
Admissions
State Bar of Georgia
U.S. Court of Appeals for the Eleventh Circuit
U.S. District Court for the Middle District of Georgia
U.S. District Court for the Northern District of Georgia
Supreme Court of Georgia
Georgia Court of Appeals