Kamal Ghali is an experienced trial and investigations lawyer and a former U.S. Department of Justice cybercrime and white-collar crime prosecutor. He leads the firm's Cybersecurity & Privacy and White Collar Criminal Defense practices. He helps clients strategically respond to fast-moving crises including data breaches and trade secret thefts; ongoing government investigations, regulatory enforcement actions, and white-collar criminal prosecutions; and complex civil litigation involving allegations of fraud, data theft, privacy violations, or criminal misconduct. He is a frequent lecturer on cybercrime and economic espionage.
As a federal prosecutor and a Deputy Chief at the U.S. Attorney's Office, he worked with the FBI and Secret Service to investigate complex frauds, global cyber threats, state-sponsored cyber intrusions, and cases involving over 100 data breaches, including the City of Atlanta ransomware attack, as well as other high-profile white collar matters. He has extensive trial experience and has tried complex multi-defendant, corporate fraud and bribery cases to juries, including a five-week trial against corporate executives charged with fraud involving $600 million in currency sales; a federal bribery trial against three corporate executives charged with bribing a public official in exchange for multi-million dollar service contracts; and cases involving securities fraud, public corruption, healthcare fraud, money laundering, and financial institution fraud.
He returned to Bondurant after serving as a federal prosecutor in the U.S. Department of Justice for over six years, as an Assistant United States Attorney (AUSA) in Atlanta, Deputy Chief of the Cyber and Intellectual Property Crime Section of the U.S. Attorney's Office, the law enforcement point of contact for all cyber events impacting the Northern District of Georgia, and an AUSA in the Economic Crimes Section.
He is the recipient of a DOJ Director's Award from Deputy Attorney General Rod Rosenstein for superior performance in co-prosecuting the promoters and developers of SpyEye, a pernicious malware that inflicted nearly a billion dollars in losses around the world. He has received the United States Attorney Award for his work on a public corruption prosecution of a sitting member of the Georgia General Assembly and is the recipient of a commendation from the FBI Director for "demonstrated excellence" in a complex securities fraud and market manipulation jury trial involving a Title III wiretap. He has been appointed by the U.S. District Court for the Northern District of Georgia to represent indigent criminal defendants in federal prosecutions.
Representative Work
He has advised and counseled media companies on fast-breaking legal crises threatening to stop production and disrupt broadcasting, including a ransomware attack on one of the most recognizable TV brands in the U.S.;
He has represented companies, including Fortune 500 companies, in connection with grand jury subpoenas and ongoing criminal investigations;
He has represented a healthcare company facing multi-state regulatory enforcement actions;
He represents a company and an individual facing parallel civil and criminal investigations involving the SEC and the FBI;
He has defended civil RICO cases, class actions, privacy litigation, Lanham Act claims, and breach of contract cases in federal courts across the U.S.
PUBLICATIONS/SPEAKING ENGAGEMENTS
Co-Author, The Sedona Conference Draft Commentary on Proposed Model Data Breach Notification Law, June 2019
Co-Author (with John Floyd), How Corporate Data Breach Victims Can Use the Georgia RICO Statute to Recover their Data, Law.com, May 31, 2019
Speaker, Association of Corporate Counsel Value Challenge, "What to do when a foreign government steals your company's data," April 30, 2019.
Speaker, Lightfoot White Collar Institute, "Cybercrime and Economic Espionage: Privacy, Speech, Defense and Safety," May 8, 2019
Speaker, Atlanta Bar Association's 15th Annual Intellectual Property Springposium, "Data Security and Privacy for IP Owners & Firms," April 27, 2019
Author, How Private Trade Secret Cases Collide With DOJ's War on Criminal Trade Secret Theft, Law.com, March 19, 2019
Author, What We Can Learn from the FBI's Disruption of North Korea's Botnet, Law.com, February 20, 2019
Speaker, Atlanta Bar Association Criminal Law Section, "Cybersecurity and Privacy," Feb. 13, 2019
Moderator, Cybersecurity Summit Atlanta, "Into the Breach – What to do Before, During and After a Breach," Feb. 13. 2019
Speaker, Healthcare Compliance Association's Regional Atlanta Conference, "Cybersecurity & Privacy," Feb. 13, 2019
Speaker, Advanced Health Law, Continuing Legal Education of Georgia State Bar Seminar, "Cybersecurity: Anatomy of a Healthcare Data Breach," October 12, 2018
Closing Keynote Speaker, Cybersecurity Summit Atlanta, "Conducting Cyber Investigations," February 2018
Speaker, Atlanta Police Department, "Electronic Evidence Overview," August 4, 2017
Speaker, Gastroenterology Practice Management Group Conference, "Cyber Threat Trends in the Healthcare Field," March 2017
Author, "U.S. v. Panin: Sentencing Challenges in Botnet Cases," U.S. Department of Justice Computer Hacking and Intellectual Property Newsletter, CHIP NEWS, July 2016
Speaker, PLUS Lifecycle of a Cyber-Liability Claim Conference, Cyber Attack Trends in 2016 and Beyond," May 2016
Speaker, Information and Cyber Governance, Data Analytics and Privacy Briefing, "View from the Government," May 2015
News
May 31, 2019

Law. com

May 13, 2019

April 3, 2019

March 19, 2019

Daily Report

February 20, 2019

January 7, 2019

April 18, 2011

Fulton County Daily Report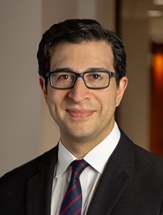 Atlanta
1201 West Peachtree Street NW
Suite 3900
Atlanta, GA 30309
Education
University of Michigan Law School, J.D., 2006, magna cum laude
Order of the Coif
Note Editor, Michigan Law Review
Emory University, B.A, 2001, magna cum laude
President, Alben W. Barkley Forum
Ranked Best College Debate Team of the Decade, 1999-2009
Previous Experience
Assistant United States Attorney, U.S. Attorney's Office for the Northern District of Georgia, Nov. 2012-Dec. 2018
Deputy Chief, Cyber and Intellectual Property Crime Section, U.S. Attorney's Office, Jan. - Dec. 2018
Law Clerk, Judge Frank M. Hull, U.S. Court of Appeals for the Eleventh Circuit, 2008-2009
Law Clerk, Judge Thomas W. Thrash, Jr., U. S. District Court for the Northern District of Georgia, 2006-2008
Admissions
State Bar of Georgia
U.S. Court of Appeals for the Eleventh Circuit
U.S. District Court for the Middle District of Georgia
U.S. District Court for the Northern District of Georgia
Supreme Court of Georgia
Georgia Court of Appeals