Kamal Ghali is a partner at Bondurant, a former U.S. Department of Justice white-collar and cybercrime prosecutor, and he leads Bondurant's White-Collar Criminal Defense and Cyber & Digital Litigation practices.

He is recognized in "Chambers USA: America's Leading Lawyers for Business" for his "impressive white-collar criminal defense practice" and ranked in the 2022 edition of "Best Lawyers in America." He is described in Chambers as an "excellent trial lawyer" with a "fantastic ability to explain complex legal and technology-related topics" and as having a "particular expertise in matters concerning cybercrime."
He represents clients in government and internal investigations, federal criminal matters, and complex litigation involving fraud allegations—including securities and cryptocurrency fraud—and racketeering (RICO).
Before returning to Bondurant, he served as a federal prosecutor for over six years. He was a Deputy Chief of the Cyber and Intellectual Property Crime Section, served in the Economic Crimes Section, the Narcotics & Organized Crime Section, and worked closely with the Public Corruption Section on several high-profile matters involving fraud and the bribery of public officials. He was the lead cyber-prosecutor at the U.S. Attorney's Office in Atlanta, led trainings on the use of cutting-edge electronic surveillance techniques, and led cases involving over 100 data breaches, state-sponsored cyber intrusions, intellectual property thefts, sensitive national security matters, ransomware attacks including the attack on the City of Atlanta, and successful prosecutions against extradited targets of international cybercrime investigations.
As a federal prosecutor, he also coordinated with the SEC on a number of matters including on a three-week jury trial of two executives charged with perpetrating a "pump and dump" scheme with a publicly traded healthcare company. The trial was the first securities fraud trial in the Northern District of Georgia involving a Title III wiretap. He co-prosecuted a five-week jury trial against corporate executives alleged to have perpetrated a fraud and money laundering scheme relating to over $600M in foreign currency sales, and he first-chaired a two-week bribery trial against corporate executives charged with bribing public officials in exchange for multi-million dollar government contracts. He won numerous awards and commendations for his work including from the FBI Director, the Deputy Attorney General, the Recording Industry Association of America, and the U.S. Attorney in Atlanta. He is the recipient of a DOJ Director's Award for superior performance in co-prosecuting the promoters and developers of SpyEye, a pernicious malware that inflicted nearly a billion dollars in losses around the world.
He has been appointed by federal judges to serve on the Criminal Justice Act Panels of the U.S. District Courts for the Northern and Middle District of Georgia. He previously served as a judicial law clerk to Chief U.S. District Judge Thomas W. Thrash, Jr. (NDGA) and U.S. Circuit Judge Frank M. Hull (CA11).
He serves on the Board of the Atlanta Volunteer Lawyers Foundation.
Additional background on his work:
"excellent trial lawyer"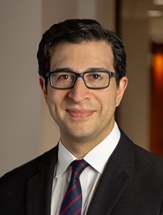 Atlanta
1201 West Peachtree Street NW
Suite 3900
Atlanta, GA 30309
Education
University of Michigan Law School, J.D., 2006, magna cum laude
Order of the Coif
Note Editor, Michigan Law Review
Emory University, B.A, 2001, magna cum laude
President, Alben W. Barkley Forum
Ranked Best College Debate Team of the Decade, 1999-2009
Previous Experience
Assistant United States Attorney, U.S. Attorney's Office for the Northern District of Georgia, Nov. 2012-Dec. 2018
Deputy Chief, Cyber and Intellectual Property Crime Section, U.S. Attorney's Office, Jan. 2018 - Dec. 2018
Law Clerk, Judge Frank M. Hull, U.S. Court of Appeals for the Eleventh Circuit, 2008-2009
Law Clerk, Judge Thomas W. Thrash, Jr., U. S. District Court for the Northern District of Georgia, 2006-2008
Admissions
State Bar of Georgia
U.S. Court of Appeals for the Eleventh Circuit
U.S. District Court for the Middle District of Georgia
U.S. District Court for the Northern District of Georgia
Supreme Court of Georgia
Georgia Court of Appeals